Discuss the new trends of international economy and create a new order of agrochemical industry!
On December 10, 2019, the "D22 annual summit of China's agricultural and chemical industry leaders" was held in Shenzhen, China. The theme of the summit was "reconstruction of a new order". Chen shengdou, President of China Association for agricultural technology popularization, Liu Yongquan, President / Secretary General of China Pesticide Development and Application Association, Hua Rongjun, Executive Deputy Secretary General of China Association for agricultural technology popularization, Zhang Huzhu, world economist Lang Xianping, and Liu Yongquan, Secretary General of China Association for pesticide development and application《 Feng Weidong, editor in chief of "agricultural means and market", George Albert, a famous German expert in the field of agriculture, and dozens of experts, entrepreneurs, platform celebrities, 300 crop magnates, and more than 500 senior agricultural and chemical executives attended the meeting to discuss the development direction of the industry and face the challenge of the new order of the agricultural and chemical industry.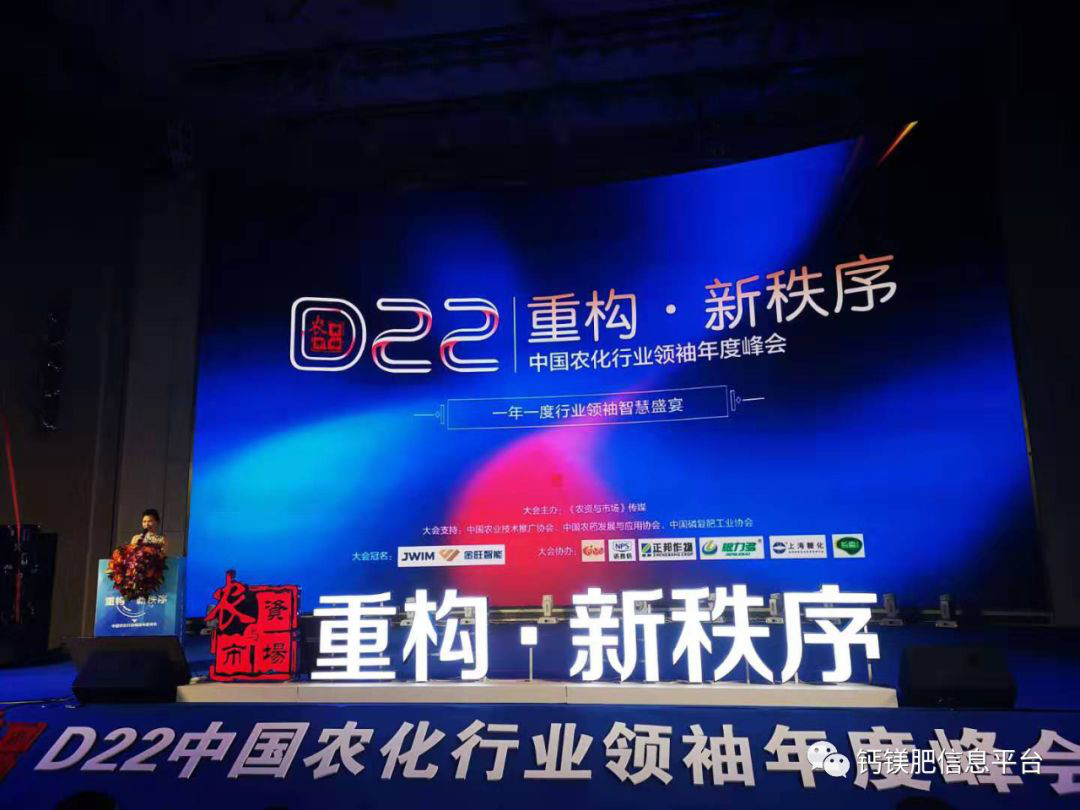 The following are the speeches of experts at the summit:
World famous economist Lang Xianping said that with the increase of China's per capita income, China's imports of agricultural products will rise in the future, and people's demand for meat will also rise. The impact of the trade war on us: first, we should take the trade war as an opportunity to open up the global food market, because China will import a large number of global agricultural products in the future, and how to improve the effective supply and reduce the price through strategic procurement is the key point; second, we should improve the level of agricultural industry chain, and strive to learn from the advanced technologies of developed countries in seed, pesticide, fertilizer, processing and marketing.
Chen Dousheng, President of China Association for agricultural technology extension, said that with the central government's promotion of the "three rights reform", the theme of emerging agriculture has changed. 480 million mu of land has been transferred, accounting for 35% of the national land contract. There are more than 3 million cooperatives and farms, and more than 15 million new professional farmers. The central government has issued a series of documents to support productive services on how to cultivate land. However, China's agriculture is also facing great challenges, especially the continuation of Sino US trade war. Chen Dousheng believes that agriculture is the prerequisite and guarantee for China's development. We should have a sense of hardship and be prepared for tackling difficulties. We should make the following preparations: first, strengthen the functions of production areas; second, give full play to the leading role of advantages; third, strengthen high-energy standard production; fourth, strengthen the supervision of chemical fertilizers and pesticides; fifth, strengthen the extension services of agricultural machinery to improve the sustainable development of agriculture.
Liu Yongquan, President of China pesticide development and Application Association, said that at present, science and technology has become the most important driving force for China's agricultural and rural economic growth, made outstanding contributions to ensuring national food security and effective supply of major agricultural products, and promoted the realization of three historic changes from high investment, resource allocation and consumption to resource saving, environment-friendly and green development. With "one control, two reductions and three basics" as the focus, China has made great efforts to develop such major actions as controlling the total amount of agricultural water, reducing the use of chemical fertilizers and pesticides, and making full use of poultry manure, straw and mulch. For air defense and disaster reduction, registration and temporary medication measures can provide guarantee for legal and reasonable safe pesticides. Every link in the whole industry chain has the responsibility to minimize the negative impact of pesticide use.
Editor in chief of agricultural means and market Feng Weidong, chief editor of agricultural means of production and market media, explains the new order from case to theory and practice, analyzes the second curve innovation, and gives the breaking point of our industry. Feng Weidong believes that the process of reshaping the new order will be a long and uncertain adaptation cycle. In which each of our enterprises are also trying to find the most suitable way to get along, but it has not yet been found. I hope everyone can follow the general trend, find the breaking point of their "second curve", influence the industry with their own small variables, and reshape their position in the industry.
Dr. George Abbott, a well-known German expert in the field of agriculture, said that with the continuous growth of China's population and the increasing demand for agricultural products, in order to improve crop yield, China's application of pesticides and fertilizers is increasing, resulting in soil acidification and hardening, nutrient imbalance and other problems. China's agriculture urgently needs to transform and upgrade to the direction of green planting. Biostimulants can protect plant cells from damage, and are environmentally friendly, and can improve crop yield, which is a new agricultural products. Under the influence of multiple factors, such as agricultural supply side reform, non-point source pollution control, quality and safety of agricultural products, China's biostimulant industry ushered in development opportunities. The future has come, and its future development prospects are broad.
At this stage, China's economy is in an important stage of upgrading and transformation. If the agricultural means industry wants to take the road of sustainable development, it requires enterprises to improve their independent innovation ability, improve the independent innovation system, constantly integrate information technology and agriculture, and constantly develop in the direction of resource saving, environment-friendly, green environmental protection and innovation. In the coming year of 2020, we are bound to usher in new opportunities and challenges. Here, I hope that all colleagues of agricultural means of production will not be afraid of difficulties, forge ahead and write a new chapter in the industry! Let's make joint efforts to drive the technological progress of China's fertilizer industry, enhance the competitiveness of the industry, and wish the calcium and magnesium fertilizer will be better and better!